chairman's message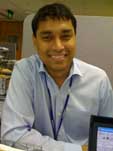 Hi, my name is indranil ray chaudhury. Thanks for sharing this moment with me.
ISONFUND is my baby. i started it in 2000 to do social work my way.
i found many organisations all over the world trying to help the poor, downtrodden, unrepresented ... the causes are never ending. The reasons are perhaps noble, hip, political correctness or simply a tax deduction.
My Cause – Help people who can't help themselves because of poverty.
My Reason – i can.
i could not find an organisation i could identify with. Either their affiliations did not agree with me or i could not stomach overhead costs that were not compatible with work done.
ISONFUND has 3 volunteer office bearers.
Myself as the chairman, Debaprasad Ghosh, the Managing Trustee and Indrajit RC the adminstrator.
i raise awareness of the group, raise funds and control the direction we take. Debaprasad disburses funds and oversees our projects. Indrajit takes care of logistics.
Our premise of operations is that we do not offer cash aid.
For each project we pay for services rendered. The doctor gets his fees, the pharmacy its payment against bills and the student his books and school-fees. This system has allowed us to not get paranoid on being ripped off.
Social work is not glamorous – we changed the name of our 'Building Toilets Project' to the Hygiene Project to sterilise the effects of reality.
But really, social work means, coming to terms with reality. A country going nuclear with the richest man building a skyscraper for his residence has villagers going to the fields to shit, is screaming for a reality check. i know it sounds like i'm making a statement…YES i am.
i will not accept that in today's world of space age gadgetry, people need to compromise on basic necessities. They have a right to live in dignity and i will facilitate this.
i am not an idealistic and angry young man. i cannot live without my iPhone. i make my living flying the greatest flying machine in the world – The Airbus A380. i live the first world's creature comforts and have no plans on giving it up. But i will not deny and ignore reality that exists – POVERTY. It can be managed.
Come join me in this journey. Some things need to be put right, "WE CAN".
our projects
clinics | education | hygiene | 2004 Tsunami